PENSION

Manský dvůr
354 93 Dolní Žandov

telephone:
+420 721 373 251

e-mail: penzion@manskydvur.cz


The pension Manský dvůr offers accommodation and pleasant free-time activities in the natural environment among meadows, woods and ponds. The nearest settelement is at 3 km distant Dolní Žandov.


There are four types of accommodation:

1. In double rooms, with an extra bed, if needed. The toilets and bathroom are common, at the corridor.

2. In 2-floor apartments (new)

3. In apartments with kitchens, one of them for disabled

4. In a cottage with its own garden

Pets are admitted.
Closed parking for accommodated guests, a shelter for motorbikes and a safe-room for bikes.
On the ground floor there is a bistro with a separate room in a rustic style for accommodated guests. Refreshment and entertainment also for other guests.
Open-air refreshment, grills etc.
Suitable for celebrations under open skies.
Activities: horse riding, fishing, table tennis, games, observation of  wild animals, mini-zoo, regional mini-museum etc.

For details, see
"Activities"

Similar pensions:
http://www.pensionvmodre.info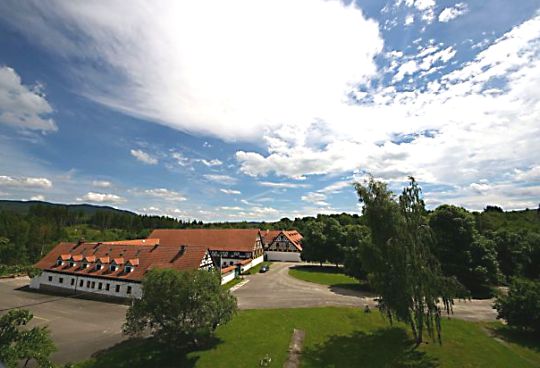 ---
ACCOMODATION - PRICE LIST

SEASON: 01/04.-01/09 + 20/12/2010 - 02/0/.2011
OUT-OF-SEASON: other dates

---
---
DOUBLE ROOMS
WITH A COMMON BATHROOM
Three rooms with and extra bed, if needed
Price B&B


---

DOUBLE 2-FLOOR APARTMENTS
A room, a bathroom and a toilet are on the lower floor, a bedroom on the upper floor.

An extra bed, if needed.
Price B&B
---
APARTMENTS

There is a barrier-free apartment on the ground floor, kitchen-sitting room, bathroom, bedroom.






On the upper floor there is a 2-floor apartment
with an eating nook. An extra bed possible, if needed.
---
COTTAGE NEXT TO THE MANNOR
Sunny hall, three rooms, kitchen, bathroom
Garden with garden furniture, fireplace
All services of the mannor available

---
---
OUR TAVERN:
It offers refreshments for our guests; the accommodated guest can have their meals in a separate room








Suitable for trainings, private parties, weddings etc.
---